The Tarlac Provincial Blood Council held its 13th awarding ceremonies for the benefactors and supporters of the Voluntary Blood Donation Program at the Bulwagan ng mga Gubernador, August 30.
Themed "Share Life, Give Blood," the awarding of plaques was led by Governor Susan Yap, Philippine Red Cross Secretary General Dr. Gwendolyn Pang, League of Municipalities of the Philippines -Tarlac Chapter President Mayor Estelita Aquino, former Tarlac Red Cross Administrator Luciano Paras, Provincial DOH Office Tarlac Head Maria Noel Lim Tarlac Red Cross BOD Chairman Jesus Cano Chua and Vice Chairman Benigno Chua.
In her message, Gov. Yap congratulated all the awardees and expressed her sincerest gratitude to the blood donors that have been the partner of the provincial government and Tarlac Red Cross in providing life-saving services.
She likewise made mention of the importance of blood donors especially during the three-year pandemic where many of those inflicted with Covid-19 needed blood transfusion.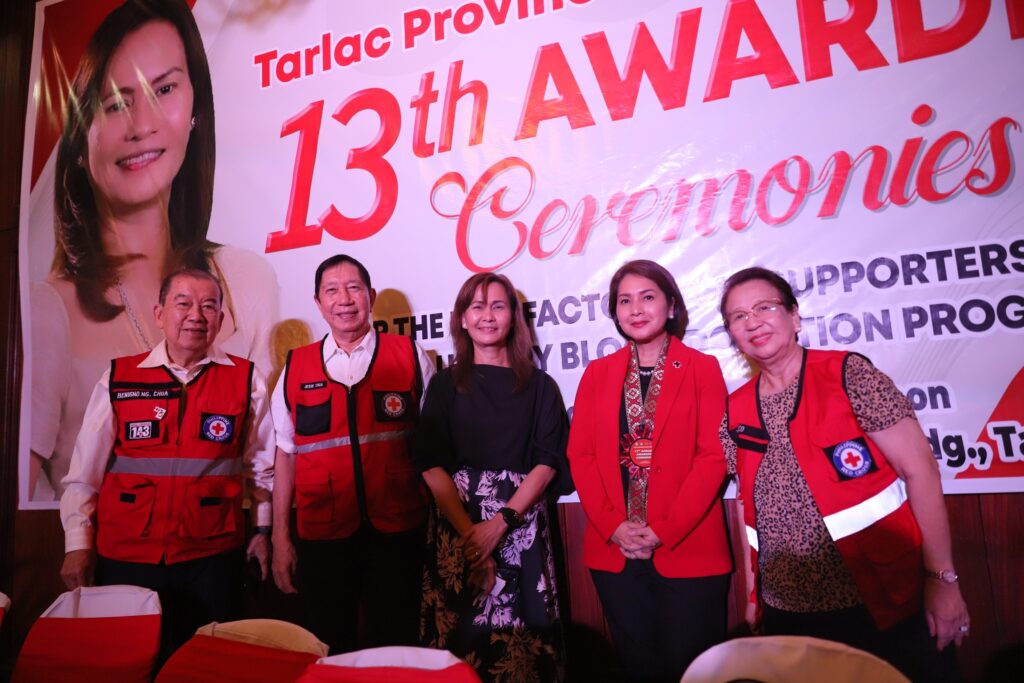 "Patuloy ang pagbibigay natin ng kaukulang tulong sa Philippine Red Cross hindi lamang sa pamamagitan ng karampatang pondo kundi maging sa tulong ng mga blood donors sa ating probinsiya," – Gov. Yap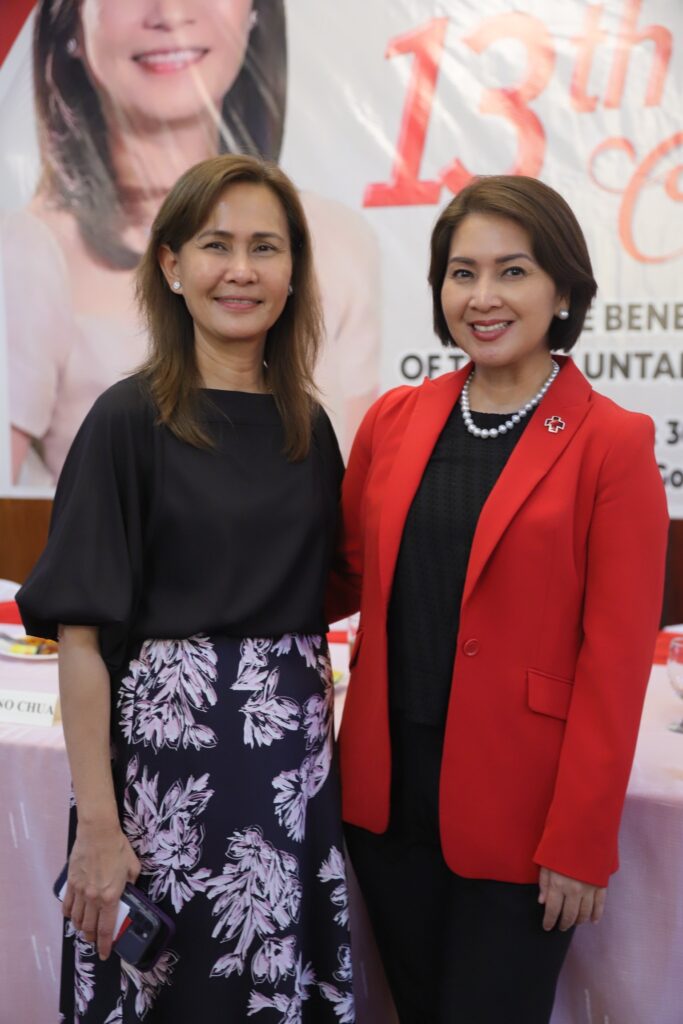 Awarded were the International Wiring System Philippines and Tarlac Police Provincial Office for the category Outstanding Blood Service Partner of the Year; the municipalities of Victoria, San Clemente, La Paz, Sta. Ignacia, Mayantoc, Capas, Moncada and Anao, the Department of Education-Tarlac Province, Señor Sto. Niño Hospital, Inc., Philippine Air Force Headquarters 710th Special Operations Wing, M. Napeñas Multi-Specialty Hospital and the Training and Doctrine Command (TRADOC) received the Blood Services Platinum Award for supporting mass blood donation for fifth consecutive years with minimum of 500 units.
Special award was given to SM City-Tarlac, Dera Sacha Sauda India, and the municipalities of Paniqui, Camiling and Concepcion for their exemplary and outstanding support to the Voluntary Blood Donation Program.
Hall of Fame Award was bestowed to Barangays Guevarra, Matayumtayum, Rizal, Balanoy, Sierra, Dumarais, Comillas and Lomboy in La Paz, Sitel Philippines Inc. and Camp Aquino Station Hospital for their outstanding support, commitment and active involvement in the program for three consecutive years or more.
Diploma Service Award went to Barangays Mamonit and Poblacion Norte in Mayantoc and the Tarlac Electric Cooperative II.
A plaque of appreciation was given to Tarlac City, Isagani Lodge, Barangays Caramutan, Caut, Bantog, Paludpud, Macalong, Motrico, Mayang, San Roque, La Purisima, Lara, Laungcupang and San Isidro in La Paz, Bounty Fresh, Dating Daan, Nissin Universal Robina, 3rd Mechanized Infantry Division, Cindy's Bakery, Nirmal Temple, Radio Maria, Eagles Club, Phelps Dodge, ON Semiconductor, Institute of Integrated Electrical Engineers, Municipality of Pura, Pi Sigma Fraternity, Knight of Columbus (TSU), PCEDO, TPLEx, Loving Mother Hospital, Centro Collegio de Tarlac, Barangay Matatalaib in Tarlac City, Philippine Institute of Civil Engineers (TSU), Barangay Mamonit in Mayantoc.
Samahang Ilocano, Rotaract Club of Tarlac Metro, Tau Gamma Phi (TSU), PGBI, Triskelions-Concepcion, Concepcion LGU, Magic Star Mall, Tarlac Medical Center, Crow Valley, SSTS, Tarelco I, Watermart Capas, Paniqui and Concepcion, The Church of Jesus Christ of Latter Day Saints, Talon Hospital, Central Azucarera H/S Annex, Filipino-Indian Club, Baras-Baras and Mababanaba H/S, San Nicolas E/S, Jecsons Medical Center, Civil Society Organization-Gerona, D'Luxe Bags, Capas Medical Center, Caritas-Tarlac, DPWH, Bounty Freash Concepcion and Basmban, McDonalds-Tarlac, TSU Rotaract Club and Red Cross Council, Ramos General Hospital, INC-La Paz, Bethany Christian School-Tarlac, TSU Law School, Phi Beta Rho, NIA-Tarlac, Alpha Phi Omega, Plebeian Academy, Barangay Campo Santo 2 in Moncada, Traveler's Tambayan (TSU), STI College-Tarlac, AMA Computer College, Cardona National H/S, Tarlac United Methodist Church and Charoen Pokphand Foods for their meritous involvement or participation in Philippine Red Cross services or activity with a minimum of 50 blood units collected.
Edward Carilo was awarded the Gold Award for donating 100 times or 25,000 cc of blood. A testimonial plaque was also given to the Provincial Government of Tarlac.